SYDNEY FILM SCHOOL WELCOMES YOU INTO THE 2021 FILMMAKING INTAKE
This page has all the essential information you need to know prior to Orientation Week.
---
MATERIAL COVERED ON THIS PAGE INCLUDES
| | |
| --- | --- |
| | SFS 2021 Filmmaking Intake |
| | |
| Getting a Unique Student Identifier (USI) | Opal Travel Concession Card |
| | |
| | |
| | SFS Equipment requirements |
| SFS Student Information Form | SFS Orientation Week Timetable and Important Information |
| 2020 Diploma and Advanced Diploma Timetable | |
---
SFS STUDENT HANDBOOK
You will be given the 2020 SFS Student Handbook on the first day of Orientation Week. We will read over the Student Handbook as an ensemble and an SFS staff member will be present to answer any questions you may have.  At the end of this session you are required to sign the declaration page (last page) of the Student handbook. By signing you acknowledge you have read, understood and agree to comply with the information outlined in the Student Handbook and that you observe and comply with the SFS Policies and Procedures available on our website.
---
SFS 2021 FILMMAKING INTAKE
We are very excited to introduce you to your fellow filmmakers.  You have all successfully gained a place in our premiere filmmaking course.
Your photo will be taken on your first day of Orientation. Please be prepared to have your photo taken.
---
SFS STDUENT EMAIL ADDRESS
For your time studying at SFS all course and school communications will be sent to your SFS student email address. Your email address has been activated.  Please refer to your personal email which you supplied to SFS for your log in details and password.
---
SFS STUDENT NUMBERS
You will be allocated an SFS student number at Orientation Week along with your SFS student card.
---
GETTING A UNIQUE STUDENT IDENTIFIER (USI)
Every year almost four million Australians build and sharpen their skills by undertaking nationally recognised training. All students doing nationally recognised training need to have a Unique Student Identifier (USI).
WHAT IS A USI?
The USI is a reference number made up of ten numbers and letter that:
creates a secure online record of your recognised training and qualifications gained in Australia
will give you access to your training records and transcripts
can be accessed online, anytime and anywhere
is free and easy to create and
stays with you for life
WHO NEEDS A USI AND WHY?
If you are a new or continuing student undertaking nationally recognised training, you need a USI in order to receive your qualification or statement of attainment. If you don't have a USI you will not receive your qualification or statement of attainment.
Your USI will give you access to an online record of the training you have done since 1 January 2015. You will also be able to produce a comprehensive transcript of your training. This can be used when applying for a job, seeking a credit transfer or demonstrating pre-requisites when undertaking further training.
If you are an international student studying offshore and do not intend on coming to Australia to do your study you do not need a USI. However, if you are an Australian expat or resident student studying offshore with an Australian training organisation, you will need a USI.
If you are an International student who will be studying in Australia you will require a USI. All international students in Australia will have been issued with an Australian Visa. Once you have arrived in Australia your visa will be activated and you will be able to apply for a USI.
If you NEED a USI – Create one here (International students must wait until arrival into Australia to apply.)
OPAL TRAVEL CONCESSION CARD
The Concession Opal card is available for SAS students. Only Australian Full-Time Students can get a "Student Concession" Opal Card.  International and Part-time Students must travel on an Adult Opal Card.
Plan your next trip to SAS – Trip Planner: transportnsw.info 
HOW TO APPLY?
First, give your consent:
For privacy reasons you'll first need to check with your student centre whether you have already given your consent for your institution to share your details with Transport for NSW. If you haven't, and your institution doesn't have a specific online form for this, you need to complete a consent form and hand it in to your student centre.
Please allow two business days for your information to reach Transport for NSW before applying.
Next, consider where you need to travel:
If you need to travel only in the Opal network (and not rural/regional NSW), you can apply for a Concession Opal card, giving you access to concession fares. But before doing so you should read the following steps:
Step 1 – Check this list to see if your student photo ID card is 'approved' as proof of entitlement.
If your institution is on the list you can travel with your student photo ID card as proof of entitlement to concession fares with your Concession Opal card. If your institution isn't on the list, you need to apply for a Transport Concession Entitlement Card.
HOW TO TOP UP?
If you don't add value to your Opal card when you first order it, you need to add some value before you travel.
You can top up your Opal card:
Online and phone top ups may take up to 60 minutes to take effect and you must tap on at an Opal card reader within 60 days to collect the top up value on your card, otherwise your top up value will be reversed to your credit/debit card account. Some retailers require their customers to pay minimum transaction values or a service fee to cover credit/debit card merchant fees.
When traveling on public transport you will need to have on you TWO Cards: A Transport Concession Entitlement OR Your SFS Student Card AND a Concession Opal Card – use your Unique Student Identifier (USI) as your student id when applying and remember to set up auto top up, so you're always ready to travel.

GOOGLE CLASSROOM
Sydney Film School uses Google Classroom for all correspondences between Teachers and Students.  Google Classroom is your student portal where you will submit all your assignments on time. Below is a step by step guide to installing and signing into your personal student account. Once you have signed in you will be able to view all your noticeboards, classes and discussion boards.

SIGN IN TO CLASSROOM
You can sign in to Classroom with:
Your SFS Education account (firstname.lastname@sydneyfilmschool.edu.au) this has been set up by SFS already for you.
You must have an active internet connection to sign in.
Enter your SFS Education account (firstname.lastname@sydneyfilmschool.edu.au) into the username field and click Next.
Enter your password and click Sign in.
If there is a welcome message, read it and click Accept.
Click I'm A Student.
Click Get Started.
Now that you are signed in, you are ready to start using Classroom.
JOIN A CLASS
To use Classroom, you need to sign in on your computer or mobile device and then join classes. Then, you can get work from your teacher and communicate with your classmates. When you join a class on one device, you're enrolled in that class on all devices.
HOW TO JOIN A CLASS
Accept an invitation from your teacher — If your teacher sends you an invitation, you'll see Join on the class card on your Classroom homepage.
ACCEPT AN INVITATION FROM YOUR TEACHER
Go to classroom.google.com.
On the class card, click Join.
(Optional) To see if your teacher included a class overview, at the top, click the down arrow.
---
WATERLOO STUDIO FLOOR PLAN – GROUND / FIRST FLOOR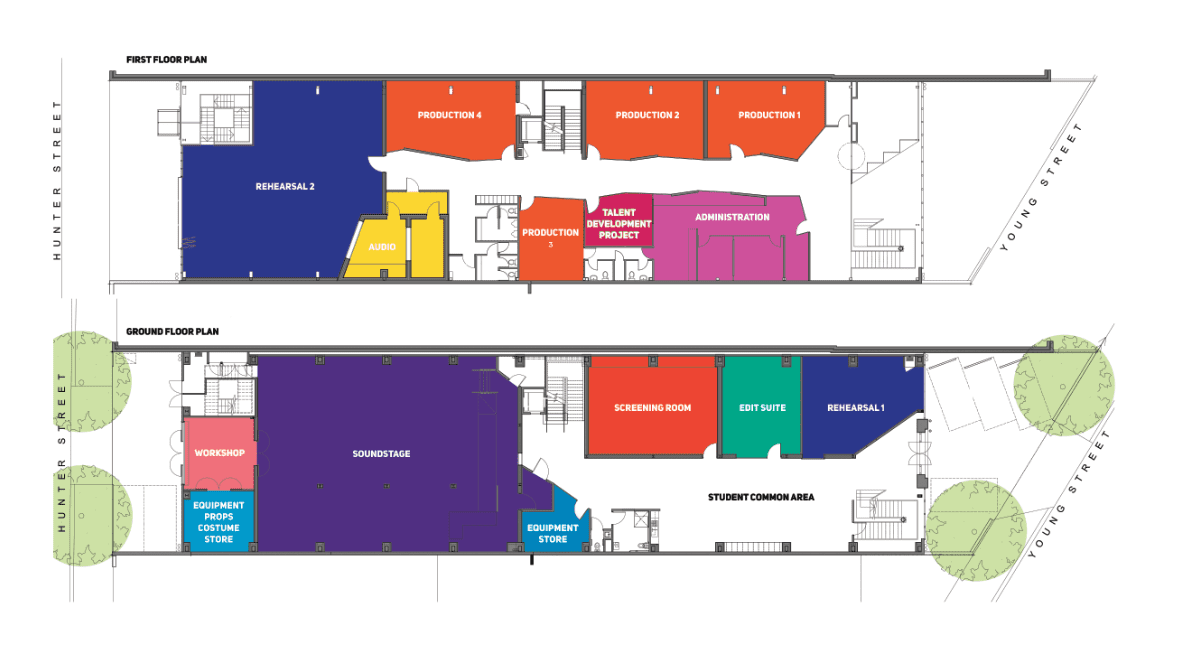 ---
SFS WI-FI ACCESS
All SFS students have access to the SFS Wi-Fi network.
The SFS Wireless connection is:
SSID: Student
Password: breakaleg
You are expected to use the wireless network facilities only for your academic work. Please show consideration for others and refrain from providing access to unauthorised users and obey all relevant laws.
SFS reserves the right to withdraw services from all students if services are generally misused, and to deny access to services, and to take other disciplinary action against individual students who misuse these facilities.
Students must not send or receive personal emails, use Instant Messenger, YouTube, Facebook or any other recreational use whilst in class.
---
SFS STUDENT PRINTER
The SFS student printer prints A4 and A3 black and white copies. All computers in the school are connected to the Student Printer located downstairs in the student common area. Printing for SFS students is free of charge.
If you would like to connect your personal lap top to the printer you can find it via the student wi-fi using bluetooth.
---
SFS STUDENT AMENITIES 
You will have the opportunity to rent a locker from SFS. Lockers will be allocated on the first day of Orientation Week. To rent a locker you are required to pay a $20 deposit (CASH), which will be refunded to you on your last day of training. To have your deposit refunded you must return you locker key to the SFS General Manager. It is not compulsory to rent a locker.
The Student Common Area is equipment with a vending machine, toaster, sandwich press, microwaves, Nespresso coffee machine (coffee pods can be purchased from the vending machine) and fridge.  The fridge is for MILK ONLY. Any student food found in the fridge will be thrown away without warning.
SFS recommends you bring your lunch to school in a cooler bag and store your lunch in your locker. We also recommend storing a plate/bowl, cutlery and cup in your locker for your personal use.
There is no student parking onsite at SFS. There is on-street parking around the school with all day parking in certain streets.
SFS is a NO SMOKING school and studio. Smoking is prohibited throughout all areas of the school including the front and rear outdoor area of the school.
---
SFS EQUIPMENT REQUIREMENTS
Filmmakers are required to purchase their own External Hard Drive to store their work on during the entirety of the course. All other equipment requirements will be administered through the Equipment Store. During Orientation Week you will be shown the correct equipment/room booking procedures.
---
STUDENT INFORMATION AND STUDENT HEALTH INTAKE FORM
You must complete the Student Information Form and the Student Health Intake Form prior to Orientation Week.
Click here to complete and submit your STUDENT HEALTH INTAKE FORM.
Click here to complete and submit your STUDENT INFORMATION FORM.
You will be asked during Orientation to input the information collected in the Student Information Form in SFS's Student Management System. Having already completed the above form will make this process easier for yourself.
---
ORIENTATION WEEK TIMETABLE AND IMPORTANT INFORMATION 
We will be taking headshots on the first day of Orientation Week.  If you wish to wear make up, have your hair styled a particular way or wear a particular colour top please do so.
We will have a welcome BBQ for lunch on the first day. You will not need to bring your lunch on the first day of Orientation Week.
---
2021 TIMETABLE
You have received an email in your SFS student email account that shares the Semester 1 timetable. We will explain the timetable in greater detail during Orientation Week.
You must be on time for class each day. Attendance at all classes is compulsory. It is the student's responsibility to contact the SFS Director of Education and the SFS Student Services Officer in advance if they are unable to attend class. For further information on assessment and attendance, please see the SFS Student Handbook.
---
The SFS staff look forward to meeting you all at Orientation and can't wait to watch you grow during your time at SFS.