SHORT FILM AND TELEVISION FOCUS
---
COURSE SUMMARY
Qualification / Award

Diploma of Screen and Media

Length

1 years full-time (3 trimesters)

Units of Competency

15 Units of Competency

Delivery

On Campus at Waterloo Studios

Available to

Domestic / International
ATAR

N/A

Course Accreditation

CRICOS (03361F)

Financial Information

Course Fees Page

IELTS

Level 5.5

Application Process

Apply Online
CUA51015 Diploma of Screen and Media is a one year practical, hands-on introductory course, where students experience every aspect of filmmaking.
This full time course, comprising two semesters of 20 weeks each, will enable students to work across a slate of drama and documentary film productions. In this real world production environment students learn storytelling, production craft and technical skills from passionate, industry-qualified trainers. Sydney Film School supplies all the essential equipment for your film projects. We believe deadlines and audiences are of vital importance, so every drama and documentary is carried to completion and is screened at the prestigious Sydney Film School Festival. It is possible to undertake the Diploma part-time over two years. However, due to the immersive nature of the course we recommend full-time study. including the delivery and assessment of units of competency, vocational outcomes, modes of study and course credit arrangements.
---
UNITS OF COMPETENCY
To successfully complete the CUA51015 Diploma of Screen and Media course, you must complete 15 core units of competency. The units are outlined in the table below:
 

UNITS OF COMPETENCY

 
 
 
BSBCRT402
COLLABORATE IN A CREATIVE PROCESS
 
 
 
BSBCRT501
ORIGINATE AND DEVELOP CONCEPTS
 
 
 
CUAANM402
CREATE DIGITAL VISUAL EFFECTS
 
 
 
CUACAM401
SHOOT A WIDE RANGE OF SCREEN CONTENT 
 
 
 
CUACAM404
PULL FOCUS
 
 
 
CUADRT502
DIRECT PERFORMERS FOR SCREEN PRODUCTIONS 
 
 
 
CUAIND502
MAINTAIN AND APPLY CREATIVE ARTS INDUSTRY KNOWLEDGE 
 
 
 
CUALGT402
IMPLEMENT LIGHTING DESIGNS 
 
 
 
CUAPOS501
EDIT COMPLEX SCREEN PRODUCTIONS
 
 
 
CUAPPM407
CREATE STORYBOARDS
 
 
 
CUAPPR502
DEVELOP OWN SUSTAINABLE PROFESSIONAL PRACTICE
 
 
 
CUAPPR505
ESTABLISH AND MAINTAIN SAFE CREATIVE PRACTICE
 
 
 
CUASOU407
EDIT SOUND
 
 
 
CUASOU410
RECORD SOUND ON LOCATION
 
 
 
CUAWRT402
WRITE EXTENDED STORIES
 
 
---
SEMESTER ONE
20 weeks – 24 hours per week
All our classes support the major film productions, covering the essential aspects of filmmaking. From the very first day students are involved in; Pre-production; research, writing, pitching, casting, crewing, scheduling, production management, rehearsal and design through to Production; locations, set building, blocking, directing actors, lighting, filming, recording and then on to Post-production; editing, music, sound design, mixing, copyright and distribution. These practical aspects of the course are supported with classes in Screen Language, Specialist Workshops, Elective Specialisations and 'Meet the Filmmaker' with special guest screenings and discussions. The school supplies equipment for the projects.
SUBJECTS
DRAMA PRODUCTION
These subjects teach the practical aspects of single camera drama production using film technology including:
producing: structure of film crews and the associated tasks
breaking down a script and production planning
the role of the design department, the production designer and the art director
cinematography and the camera department
cinematography and lighting
the role of the continuity/script supervisor
first assistant directors, shooting schedules and call sheets
the role of the sound recordist These Subjects are delivered in weekly, three-hour lecturers, with supporting tutorials each week where the subject of each class is elaborated.
DRAMA PROJECTS
The Drama film projects are produced by student crews of twelve. Each student fulfils a key crew role on a film project and has the option of undertaking more roles. Three weeks are set aside mid semester for the final preparation and shooting of these films.
THE SELECTION OF DRAMA PROJECTS
One of these projects will be chosen for every twelve students. Selection is based on the project's clarity, feasibility, creative potential, and apparent capacity of the potential director to lead a team. After the directors of projects have been selected, they are teamed up with producers and production managers selected from the students that have attended the Producing specialisation. Around this core team a crew of twelve students is assembled. The twelve key roles include: camera operator, clapper loader/camera assistant, director, director of photography, editor, first assistant director, focus puller, producer, production designer, art director, production manager, and a sound team of two-recorders/designers. Creative contributions from all crew members are necessary if the project is to reach its full potential. Over and above these roles there are extra opportunities for second roles such as composer, design assistant, gaffer, grip, location manager, makeup, standby props and more. Students get to witness the complete production process from the vantage point of their particular role. Through production meetings, casting sessions, rehearsals, location scouting, the shoot itself, through watching the editing, production reports (presented in class) and finally the public screening of the final film students gain valuable insights into all aspects of production that cannot be achieved in any other way.
STORY THROUGH SOUND & IMAGE
Sydney Film School's course addresses the importance of learning practical skills in context. To perform filmmaking tasks well, we believe students need to understand the reasoning behind effective practices. Good camera operating is to a purpose, good lighting is to a purpose and good sound etc.
In this Subject we teach from historical examples and through practical exercises how films are pieced together through:
film styles, genres and the ways we watch films
shot design and mise en scene (from the point of view of design and camera)
understanding qualities of editing and movement
the value and uses of sound and forms of music Students will produce and present pieces of work that explore the power of these elements of screen language, including the 'Sense of Place' exercise.
DIRECTING ACTORS
Students will study the varied work of several important directors, teachers and performers before embarking on class workshops to explore techniques of directing and acting in video recorded scenes.
The course covers: 
ethical issues of working with actors 
different approaches to 'acting' and proven processes 
creating scenes through actions and subtext 
the nature of characters and story 
casting and rehearsing 
acting and directing for the screen Students will produce and present pieces of work that will test these ideas throughout the course.
DIGITAL EDITING
Sydney Film School students are trained in Avid Media Composer. Students will learn the foundation principles of digital editing (image and sound) including:
How to set up a project
Avid Elements
Importing media, video, picture and audio files
Synching audio and importing sound effects and music
Three point editing
Basic video effects and transitions
Compositing and nesting effects
Timewarp and motion effects
Basic colour correction
Basic sound editing
Audio mixing and panning
Exporting sequences for Sound Mix, Composer and Colour Grading
It is expected that students will use supervised workshop time and downtime in the editing suites to practice their skills and complete set exercises. Note: While the School teaches and formally supports editing in Avid, all computers have Adobe Premiere installed and the School maintains documentation around key workflow issues to support students who choose to edit their projects in Premiere. Sydney Film school is an official Blackmagic Design Training Partner and provides training in the DaVinci Resolve suite.
CAMERA & LIGHTING WORKSHOP
Students will learn the following components of film camera operation:
Setting up a camera and accessories
Mounting a camera on a tripod
Load cameras with photographic and motion picture film
Mount lenses
Take focus measurements and mark focal points
Adjust exposure
Integrate camera operation with lighting and gripping
SOUND, SAFETY & STUDIO WORKSHOP
Students will learn the following components of digital camera operation:
Sound recording
Lighting safety
Set building – basic studio induction, safety principles and etiquette
Practical WHS assessment for film sets
PITCH PREPARATION
Students will learn how to make presentations for pitching a major project and learn how to prepare, deliver and review a presentation to a targeted audience. Students will study the following components:
Gain an understanding and techniques of pitching
Plan and document the presentation approach for a pitch
Choose strategies for pitching, delivery methods and the targeted audience
Select presentation aides, materials and techniques
Learn how to deliver a presentation
Explain desired outcomes of a presentation
Use persuasive communication techniques to gain audience interest
Summarise key concepts and ideas strategically
Review the presentation
Utilise feedback from the audience/panel in your presentation 
SCREENWRITING: STORY FOR SCREEN 
We hold off screenwriting as a subject until after students have undertaken their first film shoot, based on the philosophy that an experience in live production will strongly inform screenwriters as to how words on the page inspire action.
This course teaches and tests important principles of writing for the screen through each student writing a 5-7 minute screenplay. The scripts are shared and edited within and beyond these classes. Classes will cover:
 the special nature of a screenplay
 formatting a screenplay
 finding ideas
 creating characters
 structuring and story
 script editing and re-writing
The best screenplays from this class that are perceived as feasible for production will be passed on to the next group of students for pitching in Drama Production.
(Note: this in no way prevents the writer from also adapting the screenplay, either as a thesis film, or subsequent to graduation.)
DOCUMENTARY PRODUCTION
These Subjects teach the practical skills of digital video production in the documentary context including:
forms and styles of documentary films
interviewing skills and techniques
researching, planning and pitching a documentary proposal
location sound recording, camera operation and coverage
digital video sound and picture editing with Avid Media Composer
To reinforce the skills and knowledge under industry conditions, each student will work as part of a crew of four on a documentary project over the term of this Subject. These documentaries are given a small budget for expenses and film from weeks 17 to 19 of the course. (They are subsequently edited in semester 2.)
The Selection of Documentary Projects
In week 14 of the course, after further instruction all students will pitch a documentary project that they have researched to their class and teacher/s. These projects are discussed and then voted on in order to select the projects with the most promise for production. One of these projects will be chosen for every four students. Selection is based on the project's clarity, feasibility and creative potential.
Once the projects and directors have been selected they are teamed up with a camera operator, sound recordist and editor/producer. Although each has separate responsibilities, the group is encouraged to work closely together through all aspects of the production so that each has the opportunity to experience the complete production process from the vantage point of their particular role. Creative contributions from all crew members are necessary if the project is to reach its full potential.
In production meetings, filming on location, and rushes screenings, students will gain valuable insights into all aspects of documentary that can only be learned by the doing.
DOCUMENTARY CAMERA WORKSHOP
Students will learn the following components of practical documentary production:
Setting up a camera and accessories
Mounting a camera on a tripod
Filming and lighting for interviews
Observational camera techniques
DRAMA POST-PRODUCTION
Students observe the progress of the drama projects from their starting point as rushes through editing process to their final form as mixed, graded short films. Over the course of this class the following topics are covered:
Reflection on the results of production, both strengths and deficiencies
The history of editing approaches and philosophies
Logging rushes and identifying the strengths and limitations of material
Creating assemblies and diagnosing a film's structural issues from the early form
Testing the strength of a film through a series of rough cuts, and refining the film against test audience feedback
Fine cutting a film once its structural form is optimal
Spotting the film for sound and music
Sound design workflows
What can be achieved in grading?
At the end of the semester, the drama projects will be screened at the Sydney Film School Festival.
SCREEN CAREERS
Students are instructed in the industry context around their studies, likely areas of employment and strategies for cultivating networks and presenting themselves.
SCREEN LEGALS & ETHICS
Students will gain a general understanding of the application of the law and ethical principles on film and television productions across different aspects of the production process. Students will learn the general legal principles relating to filmmaking and the resources that can be used to assist in understanding and working through legal and ethical issues in filmmaking as they relate to Australian Law.
SPECIALISATION WORKSHOPS PART ONE
Each student is given the opportunity to explore in greater detail two aspects of filmmaking through the specialisations. These workshops are of great assistance in preparing students for their key roles on the film productions.
Note: Not all specialisations are run every semester, depending on student numbers.
These Specialisation are offered over two full days on selected weekends:
PRODUCTION MANAGEMENT 
Getting the most out of your budget and team. Students will break down a short script for the purpose of budgeting, scheduling, and managing a film project. They will explore crew structures and the creative dynamics across all stages of the production process.
CINEMATOGRAPHY
The art and responsibilities of the cinematography department. Students will light and film a variety of interior and exterior set ups, testing film stocks, exposures, filters and shutter speeds to achieve a range of moods and cinematic effects. The 16mm film rushes of the test shooting are then processed, screened and reviewed.
PRODUCTION DESIGN
Story telling through film design. Students will explore the scope and potential of the many facets of design in filmmaking, break down scripts into the design elements of the story and character, learn the management of an art department, and be mentored on the design of a major project.
MUSIC FOR FILM
Film music and how to talk to composers. Students will be shown clear examples of different types and uses of music in films, work with a student composer to add meaning through music to their set of images, meet with a prominent Australian composer to view / listen and discuss their work and career.  
Students choose any two of these specialisations, but they may purchase additional workshops if interest and time allows.
---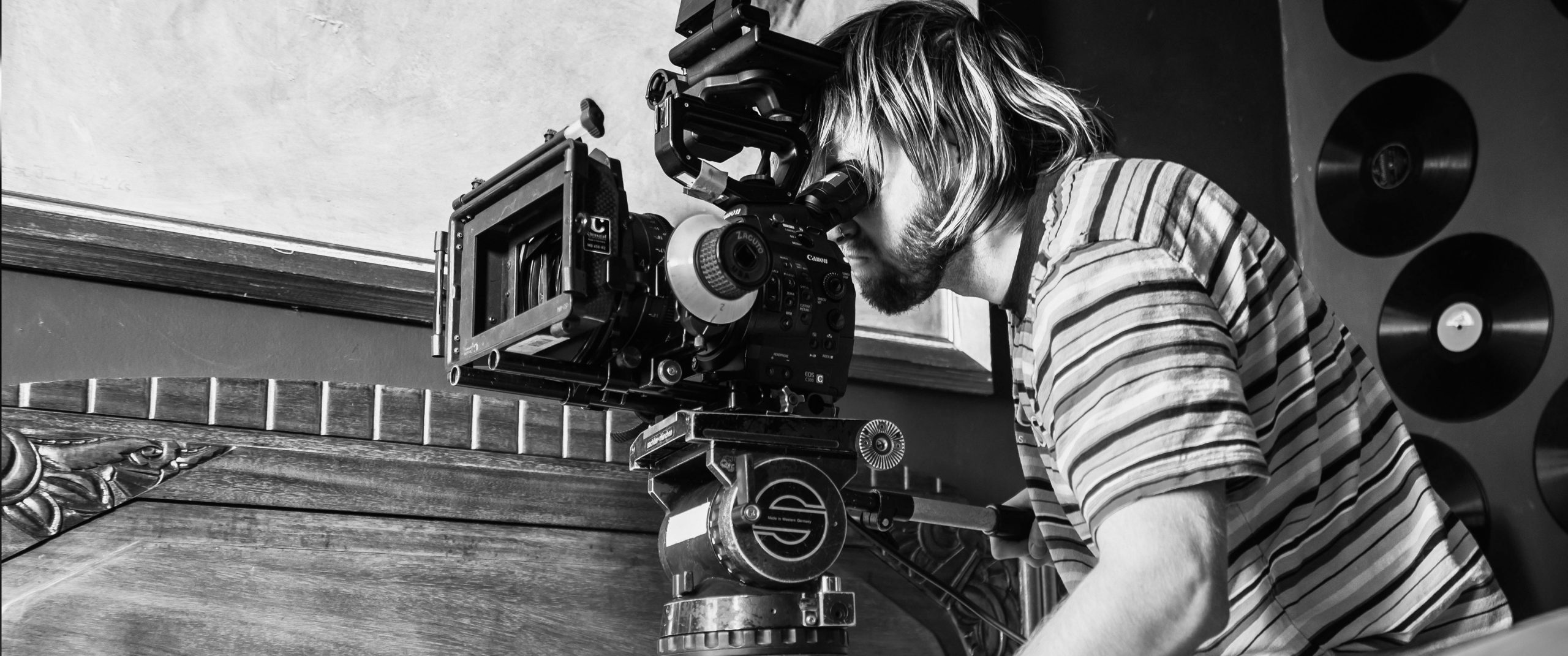 ---
SEMESTER TWO
20 weeks – 24 hours per week
After completing Semester One, students have the opportunity to explore further aspects of filmmaking with longer specialist workshops.
Each student also makes their own 'Thesis Film', supported to find their individual creative voice.
Through our practical focus we help students master skills under real production conditions that will give them the confidence to find a place in this industry.
The school supplies all the equipment for the projects.
Every film and documentary from Semesters One and Two are taken through to final completion and is publicly screened at the end of semester Sydney Film School Festival at a major Sydney Cinema. It is our belief that deadlines and audiences are of vital importance.
SUBJECTS
After completing semester one and publicly screening all the films, all students will have experienced the complete process of dramatic film from concept to completion at first hand and witnessed the response to their work. They will also be halfway through their second wave of production, with the documentaries shot but awaiting post-production.
In semester two students push on with thirty-hour specialist workshops in the aspects of filmmaking that most interested them, as preparation for making another set of more ambitious films. The documentaries are carried through post-production to completion, and students undertake their third wave of production, the thesis films.
Every student makes their own thesis film, enabling him or her to find their individual creative voice. The thesis films are crewed by the student's peers providing numerous opportunities for every student to pick many valuable hours of hands-on production experience in a variety of roles. Where possible, the specialist electives are shaped to help build the skills necessary to undertake the specific thesis films of each group.
Again through a strong practical focus we help students to master skills that can win them a place in this industry, or arm them with the understanding, skills and contacts they will need to go on to produce their own quality work.
The school supplies all the equipment and budgets for the projects.
SCREEN STUDIES
This course is an opportunity to build on an understanding of screen language. Because students have now been directly involved in all aspects of the film production process, students take this opportunity to bring their own questions, observations, doubts and discoveries to the sessions that enhance the relevance and productivity of the sessions. Topics include story worlds, image systems, soundscapes, staging and blocking and montage.
In response to more in depth explorations of how the filmmaker's tools can shape style and story, students will produce and present new pieces of work, through which they will continue to explore the power of screen language. Sometimes these exercises are filmed in class, and sometimes they are filmed outside of class. The shooting scenarios will often utilise light, guerrilla filmmaking scenarios and formal constraints to motivate quick, instinctive filmmaking.
DOCUMENTARY POST
Under the guidance of editing teachers, students are guided through the edits of their documentaries over the course of 6 weeks. These documentaries were filmed at the conclusion of the first semester, and over the course of the 6 weeks, the students go through the process of logging rushes, identifying the strengths of the material, mapping and testing structural ideas, refining edits, shooting pick-ups and finally, sound mixing and grading the films.  The films are completed in the 6th week of semester, as the thesis films formally enter pre-production.
THESIS
The thesis project subject involves each student attending a weekly class / forum with a small group of peers and a thesis supervisor in order to develop a short personal film project. This process involves screenings and discussions designed to challenge personal set notions of what cinema is and how it may connect with an audience.
Each student is helped and encouraged to go on a personal and fulfilling journey of discovery, to investigate a compelling cinematic issue, question of style, or technical challenge. Each student will seek out relevant examples of their thoughts from cinema history (visual and written references) and keep a record of their process throughout (via diary, and also through multiple drafts of production documents). This process of exploration builds up to the making of an individual short thesis film as a practical embodiment of the student's answer to their personal challenge.
Students are given access to a range of film equipment, studio access and a cash budget to shoot their thesis project. Every thesis film is taken through to final completion and is publicly screened at the end of semester Sydney Film School Festival at a major Sydney Cinema. It is our belief that deadlines and audiences are of vital importance.
The Thesis Class is delivered over the course of the semester, sometimes with different mentors for the concept development, pre-production and post-production phases. Classes are suspended for a four-week shooting period in the middle of the semester, although mentors remain available for consultation.
DIRECTOR'S LAB
The first two weeks of Part 2 are dominated by this Directing workshop. Directors with industry experience are invited in to introduce students to their practical techniques for working with actors. After instruction and with guidance from their teachers, students will work with each other to develop scenarios, short scripts and improvisations as explorations of acting / directing techniques. These will be filmed and then presented to a larger group for analysis and feedback. This Subject is delivered in nine, three-hour sessions over the first two weeks of semester 2. The workshop finishes with an extra full day of review and analysis of the filmed scenes.
SPECIALISATION WORKSHOPS PART TWO
Each student is to choose two out of the following six workshops.
Note that, depending on student interest, not all workshops run in every semester.
SCREENWRITING / SCRIPT EDITING LAB
Students need to come to this workshop with a first draft of a 6min screenplay, or a treatment for one. They will develop these scripts under the supervision of their teacher / mentor and in discussions with a small group of their peers.  These screenplays will often be used as the basis for their thesis films. This Subject is delivered in eight, three-hour sessions over weeks 3 to 7. The workshop finishes with an extra full day of readings and review of all scripts.
DOCUMENTARY
For students wishing to explore this discipline in greater depth, this workshop provides the opportunity for meeting up-close talented Australian documentary filmmakers, view their work, gain insights into their motivations and working methods and also to test out the student's own ideas for projects with people who have been there before. This Subject is delivered in a number of master classes and mentoring sessions spread throughout the semester in order to provide the very best support for the development and completion of the documentary projects generated within it.
PRODUCING / FIRST ASSISTANT DIRECTING 
For students who wish to extend their understanding of the high level role of producers in project inception, financing and distribution; and to deepen their experience in the practical role of the First Assistant Director. This course usually divides between 6 x 3 hour sessions on Producing with an industry producer, and 4 x 3 hour sessions with a working First Assistant Director.
CINEMATOGRAPHY 
With further instruction and demonstrations from professional cinematographers. Students will develop their skills to a higher level. Using professional equipment students will explore the differences between film and digital imaging; test sophisticated lighting set-ups and gripping solutions (including dolly, crane and jib-arms). Class exercises often include shooting for green screen, SimTravel, and filming with car mounts. In teams of three, students will design, light and shoot a scene outside of class hours.
PRODUCTION DESIGN 
This course deepens the theory and application of production design as a craft. Classes will early on decide on a set design that will serve as a model for supervised set building, and deepen the complexity of set designs attempted in part 1. This set design will then be erected and detailed for cinematography students to light and shoot for their elective. From there the elective includes exercises in costume design as well as a deepening of the theory of design as a storytelling tool. The course concludes with opportunities for design students to consult their instructor on their specific thesis films.
AFTER FX
This workshop is designed as an introduction to digital image manipulation, specifically After FX. Each student will complete a challenging work incorporating a range of digital techniques. This Subject is delivered in three-hour sessions over the first section of the semester. The workshop finishes with an extra full day of screening and review of all projects, plus a short practical exam to ensure each student's working knowledge of the systems. 
PROTOOLS
Under the guidance of a film sound professional students will immerse themselves in the expansive, enigmatic world of postproduction sound design. Students will also learn track laying and soundtrack mixing on ProTools. Particular emphasis will be given to the design potential of the thesis film soundtracks. This subject is delivered in five, day-long sessions. The workshop finishes with an extra full day of screening and review of all projects, plus a short practical exam to ensure each student's working knowledge of the ProTools system. 
The outline above summarises what is an extremely busy, productive and transforming year of activity delivered with passion, care and attention by the full time staff and the industry professionals who believe in the mission that is Sydney Film School.
---
ENTRY REQUIREMENTS & APPLICATION SUBMISSION
Applicants must have a suitable level of academic skills in order to study in a Diploma course.
To apply for this course you must complete our filmmaking application. Shortly after you submit your application one of Sydney Films School friendly staff will then be in contact with you to arrange your initial tour and interview dates too.
If you have any questions on our school or course certainly feel free to get in touch. If you are eager to pursue a filmmaking career, then Sydney Film School is the place for you.
PLEASE NOTE THIS VERSION OF THE DIPLOMA COURSE WILL BE TAUGHT OUT IN 2020. 
CUA51015 DIPLOMA OF SCREEN AND MEDIA
Course calendar for students commencing in July 2019 and July 2020.
COURSE CALENDAR – STUDENT INTAKE 2019 / 2020

CUA51015 DIPLOMA OF SCREEN AND MEDIA

FILM 1

SEMESTER START

SEMESTER FINISH

MON, 13 JUL 20
FRI, 26 NOV 20
SEMESTER BREAK

BREAK START

BREAK FINISH

SAT, 27 NOV 20
TUES, 31 JAN 21
FILM 2

SEMESTER START

SEMESTER FINISH

MON, 1 FEB 21
FRI, 25 JUN 21